Iran Bombing Threat: Creating a Mindset that Leads to War
by Chris Iosso, an editorial
from Unbound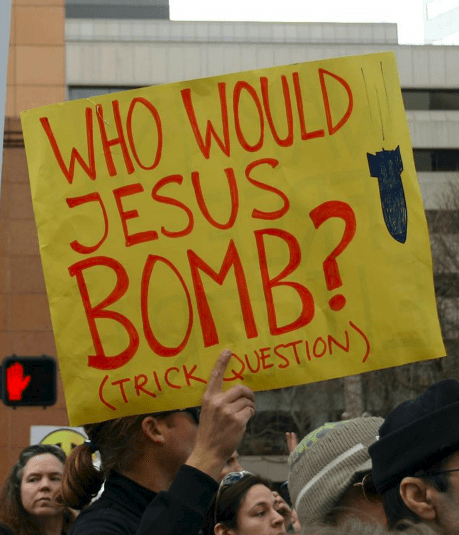 The first thing one encoun­ters in dis­cussing the war drum­beat tar­get­ing Iran is the one-sidedness of the debate. Glenn Green­wald of Salon gives a quick sum­mary on this point, and James Wall, for­mer Chris­t­ian Cen­tury edi­tor, describes the same real­ity. This sug­gests that the talk of war with Iran, though help­fully called, "loose talk," by Pres­i­dent Obama in his Sun­day, March 4, speech to the Amer­i­can Israeli Pub­lic Affairs Com­mit­tee (AIPAC), is actu­ally quite delib­er­ate and orches­trated talk designed to cre­ate a mind­set favor­ing war.
And even if this talk is a repeated strat­egy to dis­tract the U.S. pub­lic from con­tin­ued set­tle­ments or other Israeli polit­i­cal objec­tives, it con­tin­ues to mil­i­ta­rize U.S. for­eign pol­icy and affects our rela­tions not just with Iran, but with the larger com­mu­nity of nations. In prac­ti­cal terms, it keeps us from build­ing stronger alliances to deal with the cri­sis in Syria (for exam­ple) and revives a uni­lat­er­al­ist mind­set that dis­re­gards inter­na­tional law.
The Pres­by­ter­ian Church (U.S.A.) Stated Clerk's let­ter to Pres­i­dent Obama, sent on Feb­ru­ary 21, 2012, focuses on the basic Chris­t­ian argu­ments against another Mid­dle East war. He under­lines the tragedy of war (think Iraq) and the lack of Just War or Just Peace­mak­ing grounds for war. He does not empha­size what many Chris­t­ian observers know: more uni­lat­eral attacks on Mus­lims and Arabs are likely to increase pres­sure on all Chris­t­ian minori­ties remain­ing in the Mid­dle East. It is heart­en­ing to see actions like Greater Atlanta's that seek to address the longer term manip­u­la­tion of U.S. opin­ion on Iran, as their over­ture will not be acted on by the Gen­eral Assem­bly until early July.